Drew Brees's Hair Becomes Star Of NFL's Opening Night
"The newly minted NBC analyst was apparently the beneficiary of recent growth! His hairline moved forward by a considerable amount."
Forget Tom Brady and the Buccaneers. Drew Brees stole the show in the first NFL game of the season. More specifically, his hair stole the show.
When we last saw the future hall-of-famer suiting up for the Saints, he looked like this.
On Thursday night for his TV debut, he looked like this.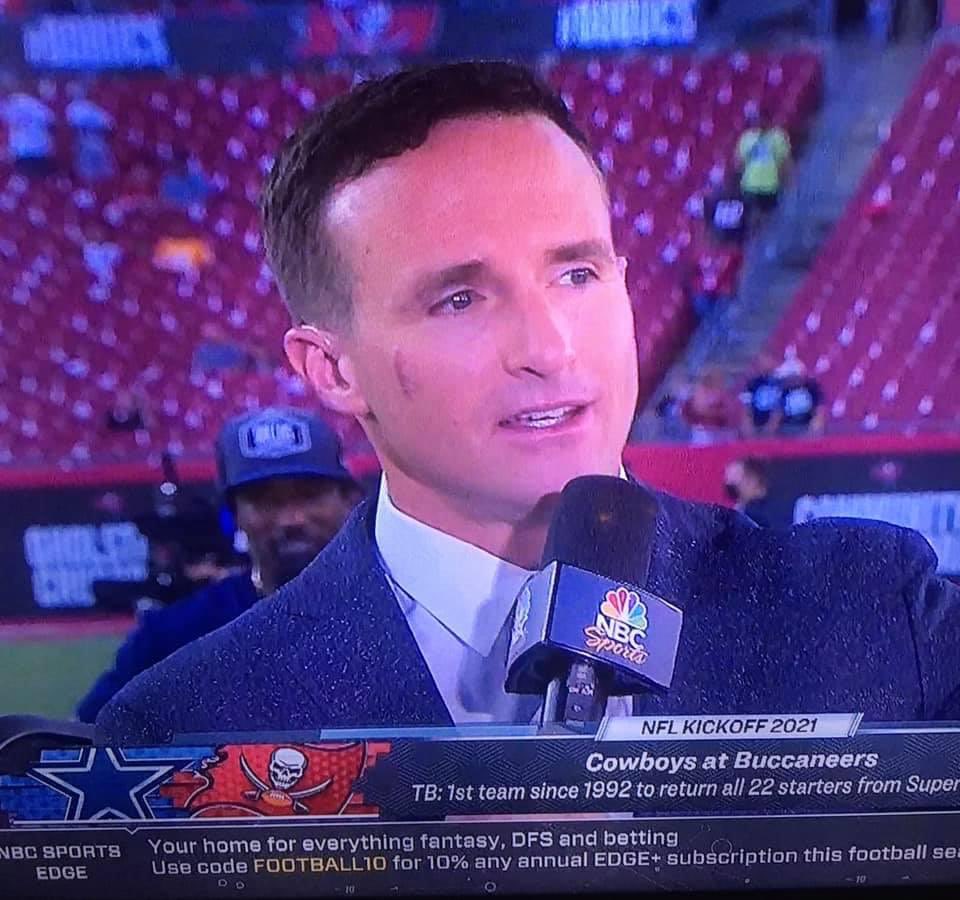 The newly minted NBC analyst was apparently the beneficiary of recent growth! His hairline moved forward by a considerable amount.
While he is receiving mostly positive reviews for his analysis of the game, Drew Brees was the subject of social media chatter relating to his hairline. It came in from fans and sports media colleagues alike.
The staff of the Dan Le Batard Show took it a step further. In their postgame show, Mike Ryan commented not just on the hair, but on the fresh tan Drew Brees was showing off as well remarking "what a glow up!".
Dan Patrick really should get some credit here. Even before Brees made his retirement official, Patrick noticed the revitalized hairline. That was all the evidence he needed that Drew Brees's playing days were over.
"That's the tip off," Patrick said in March on his FOX Sports Radio show. "Drew Brees is truly retiring because he now has a full head of hair. I don't know where he got it, but he has a full head of hair, he is ready for TV."
It will be fun to see how or if this conversation continues in the coming weeks. Between Football Night in America and Notre Dame games, Drew Brees will be on television plenty. Surely at some point, if the social chatter continues, he or one of his colleagues will have to address it.
NBC Will Air Winter Olympics After Super Bowl 56
"We want to be able to maximize the the coverage of the Olympics while it's going on and especially when we're in full live events."
For the past 46 years, the Super Bowl has been followed by a series lead-out. NBC has some different plans for this year's event, however. Super Bowl 56 will be followed by the Winter Olympics.
The Super Bowl takes place on February 13th, right in the middle of the Winter Olympics which run from the 4th to the 20th. This year will be the first time that a network has aired both at the same time, and it gives NBC a prime opportunity to cash in on the Super Bowl audience for their coverage of the Olympic games.
"We have the benefit and the luxury of being right in the middle of the Olympics and we have a commitment to air live Olympics," said Frances Berwick, chairman, entertainment networks, NBCUniversal Television and Streaming.
"I think the fortunate position that we're in is to have the benefit of those 18 days of the Olympics plus the Super Bowl as these immense promotional platforms to promote our new shows, too," said Berwick "So we're in a really unique situation in that regard." he added.
Networks usually use the Super Bowl as an opportunity to market a new show, and it has worked to varying degrees of success over the years. The last time NBC has had a Super Bowl was in 2018, where the show This Is Us averaged a whopping 27 million viewers.
The last time a network followed the Super Bowl with another sporting event was in 1976, when CBS aired the Phoenix Open golf tournament after Super Bowl X.
"We want to be able to maximize the coverage of the Olympics while it's going on and especially when we're in full live events," Berwick added.
John Canzano: ESPN Did Not Like My Criticism
"Canzano closes his Monday column by encouraging George Kliavkoff, the new commissioner of the PAC-12, to hire TV producers to advise the league's next television contracts."
John Canzano wrote a second piece in the Oregonian on Monday about ESPN. This one was addressing the network's reaction to his Sunday column about the poor visual quality of the network's coverage of PAC-12 football.
In Sunday's piece, Canzano cited sources that told him the network is cutting costs in its PAC-12 coverage. It is using fewer cameras and an outdated broadcast truck. He referred to the network's coverage of Oregon's win over Washington State as "a fuzzy, low-budget disappointment."
"An ESPN spokesperson read my column and wrote in bold to tell me, 'The notion that we are doing Pac-12 games on the cheap is patently false,'" he wrote on Monday.
According to John Canzano, ESPN says it had seven cameras at the game, not six as he had previously reported. The network also acknowledges that there have been technical issues on some PAC-12 games this season, but characterized them as "some isolated technical issues…that we are actively working to fix."
Bill Rice also spoke with Canzano. He was a camera operator at the game. He is clear in his diagnosis of the problem. ESPN is using outdated equipment.
"All of that gear that we were using is old and wore out. It's their 'E' show. That truck is a long way from home. That's ESPN's 'E-level' show.
"You know… A.. B… C… D… E."
Rice also said that the broadcast truck ESPN uses for games on the West Coast is a relic. He says it is from the 20th century, which would mean that the network is relying on technology that is more than two decades old to broadcast games in HD.
John Canzano did some digging and did find some answers regarding the truck and the equipment inside the stadium.
"The Oregonian/OregonLive obtained the information sheet that was distributed to crew working for ESPN in front of the Oregon-WSU game. The truck itself was built in 2012, but the key equipment inside was manufactured 10-25 years years ago. The document verifies there were, in fact, six "hard" cameras at the game and a seventh handheld camera present. It also lists the names of crew working the game. I researched them and they're all highly qualified and experienced television production experts."
Canzano closes his Monday column by encouraging George Kliavkoff, the new commissioner of the PAC-12, to hire TV producers to advise the league's next television contracts.
Bally Sports RSNs Not Included In Dish Network Sinclair Deal
"The Tennis Channel made the cut, but Bally Sports-branded RSNs did not."
Sinclair Broadcast Group and DISH Network agreed on a carriage plan, but the former's RSNs are not included.
The two sides had been going back and forth for months over an agreement to keep Sinclair's 144 local stations, across 86 markets nationwide, on DISH TV. The Tennis Channel also made the cut, but Bally Sports-branded RSNs did not.
"We are pleased to have reached a multi-year agreement with Sinclair after months of negotiations," said Brian Neylon, group president, DISH TV, in a press release. "Sinclair has been a good long-term partner to work with. Both sides have been committed to keeping our customers top of mind and not putting them in the middle of our negotiations. After several contract extensions, we have arrived at a fair agreement that benefits all parties, especially our customers."
DISH dropped the RSNs in the summer of 2019 and have subsequently booted other properties as well. The satellite TV network also cut NBC Sports RSNs, AT&T Sportsnet RSNs, and AltitudeTV, which airs games from Denver-area sports teams.
"Our agreement with DISH reflects the continued importance that distributors place on local and national broadcast content," Sinclair's head of distribution & network relations, William Bell, said. We look forward to continuing to provide DISH viewers with the high-quality and highly-desired entertainment, and timely local news that they depend on every day."
It's hard to see a path for the Bally Sports returning to DISH Network after the latter keeps trimming the fat from its RSN offerings. DISH notched a big win in its ledger by pushing the deal through the finish line without having to pay for Sinclair's RSNs.