Chris Bleck & Adam Abdalla Made It Hard For ESPN 1000 to Say No
What Thomas saw in Bleck and Abdalla when he first started at the station is what earned them their spot on-air. What Thomas has seen from them since is what has earned them his praise.
The Bleck and Abdalla show on ESPN 1000 was destined from the start.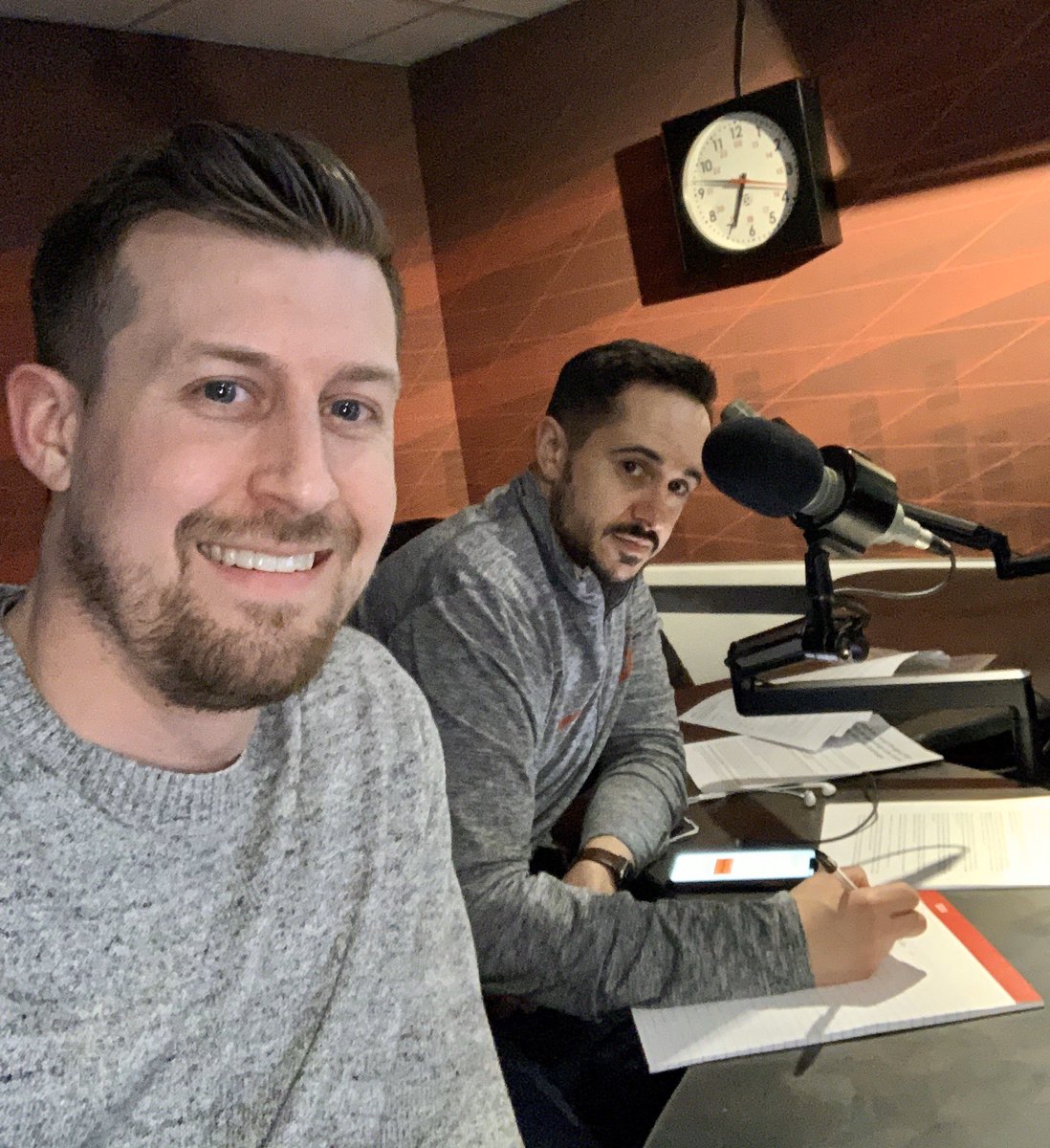 Co-hosts Chris Bleck and Adam Abdalla both attended Libertyville High School in Libertyville, Ill., a town approximately 40 miles north of ESPN's State Street studio in Chicago.
With last names close to each other in the alphabet, Bleck and Abdalla often found themselves sitting next to each other in class or hearing their names called close together when read by a teacher in alphabetical order.
They weren't friends at the time, but rather friendly acquaintances.
Upon graduating high school, both Bleck and Abdalla stayed in-state for college. Bleck went to Colombia College to study broadcast journalism with a focus on radio, while Abdalla went to business school at DePaul with the goal of starting his own record company.
Abdalla quickly realized that business classes required quite a bit of math, something he didn't particularly care for. Couple that with a required class on Joan of Arc and Abdalla was looking to transfer schools.
He decided on Columbia College where he planned to study music production but, like most college kids, switched his major for the second time when he learned about the radio department that was just one floor up from the music department.
"I walked in the first day and Chris is sitting there in one of the production booths during this thing called 'studio time' where you'd rent studio time to students so they can work on projects," said Abdalla.
With shared interests in radio, sports, drinking beer and doing the stupid stuff 20-year-old college students do, the two began hanging out.
"We immediately became friends and it was like we had been friends our entire lives even though we weren't really friends back in Libertyville," said Bleck.
The two started doing radio shows together at Columbia's student radio station WCRX and upon graduating in 2007, both began interning at ESPN Chicago.
When the internship ended, Abdalla was hired full-time while Bleck took a quick detour up Highway 94 to Kenosha, Wis., where he worked at 95 WIIL Rock before being called back to ESPN Chicago full-time in February of 2008.
At that time, Bleck and Abdalla were not only co-workers again, but they were also roommates, living in Wrigleyville, working the worst weekend shifts possible as board ops and as producers, yet having the time of their lives as young adults in a big city.
Having plenty of time to talk and bounce ideas off each other in the late-night hours, the two made a decision that would map out their next 15 years at the station – work hard to get better, get noticed and get on the air.
"We decided at that time, like, 'hey, if we want to be on the air, we needed to actually do it,'" said Bleck. "Because what I think happens in our industry, is people just want to be on air, but they don't want to actually practice being on the air."
So Bleck and Abdalla practiced.
"We immediately started recording podcasts even though we had no one listening to us and like podcasts at that time were still kind of new, but we made a point to hold ourselves accountable to do a show," said Bleck.
They pitched an idea to Justin Craig, the program director at the time, and Adam Delevitt, the assistant program director.
"We went to them and we said, 'hey, we want to do shows, but you're not going to allow us to do shows, so what if we clip together the best segments throughout the week and it'll be an hour-long podcast. We'll introduce in and out of segments and we'll keep it short, we'll keep it really short,'" said Bleck.
They were given the green light and from there, "The Best of 1000" was born.
The two would intro clips from "Waddle and Silvy," "Carmen and Jurko," "Mike and Mike" – which ran on the station at the time – and any other shows they deemed worthy of being part of that week's podcast.
For fear of doing or saying something that might jeopardize their opportunity, they kept each intro and outro simple and safe.
"This week, Mike and Mike talked to…"
"…alright, that was Mike and Mike, and this is "The Best of 1000," and coming up, Waddle and Silvy talk to Charles Barkley."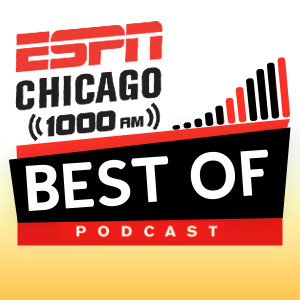 As the two got more comfortable over time, the clips got shorter, and their banter got longer. They began to move from what they thought sports radio was supposed to sound like to just doing radio. Eventually, the show earned its own timeslot in the station's lineup, Saturday at 5 a.m.
While continuing to produce "The Best of 1000" and other podcasts on their own, Bleck and Abdalla also began getting on-air fill-in opportunities for various hosts.
"They were thrown a bone every now and then, you know, to do a weekend show or late-night show or whatever and that was about the extent of it," said market manager Mike Thomas. "And then they took that, and they parlayed it into a regular weekend show."
Thomas joined the station in January of 2020, and eight months later, after years of waiting their turn, "Bleck and Abdalla" became its own branded show, airing weekdays from 6-8 p.m. local time.
"We started like in like '08, '09 recording stuff and doing 'The Best of 1000,' but really, to fill in for people for so long and then to have someone come in and support you means all the world to us," said Bleck regarding Thomas' vision for the show.
"They deserve a lot of credit for sticking with it and for always kind of trying to get the attention of management and not giving up and going, 'you know what, I'm a producer in market No. 3 and I should just be happy with that and maybe someday I'll be able to be on the air when Marc Silverman retires,'" said Thomas. "They didn't do that."
It's important to know that throughout all the years they spent recording their own podcasts, filling in for people and working to carve out opportunities for themselves, they were, and still are, full-time producers at the station, currently producing for "Waddle and Silvy."
"When I'm in the studio it's really dedicated to "Waddle and Silvy" and then, you know, we have a quick commercial break in between the two shows and it's like you just jump out of the plane and then you hope you land every night," said Bleck.
Being able to balance producing a 4-hour show and then immediately jumping into hosting a 2-hour show goes back to the longevity of their friendship and the chemistry between the two.
"We know each other so well that when the conversation is happening or we're doing something spontaneous, we just kind of know what the other person is thinking almost before we even say it," said Abdalla. "Like we've known each other longer than we've known our wives."
"I feel like the give and take between the two of us and the ability to kind of take any topic, and like if I said I need you to talk about this for 10 minutes, I feel like the two of us are pretty confident that we could talk about any topic for at least 10 minutes, so with that comfort, I don't worry about what we're going to do on the night show," said Bleck without discrediting the fact that there is definite preparation that still goes into each show.
Part of what industry members have said makes "Bleck and Abdalla" so great, is that they offer fresh, creative ways of talking about things that separate them from other shows, both at ESPN Chicago and other sports stations in general.
"They look at things differently," said Thomas. "It's a lot more just guy talk than it is sports talk, and they have a ton of fun every time they do a show. And they're naturally funny, which is a huge benefit because you can't teach funny."
From comparing Bears rookie quarterback Justin Fields and head coach Matt Nagy to taking a date to prom, to an ongoing bit about who's using Abdalla's hot sauce from the station fridge, it's not just all sports all the time for the longtime duo.
"Mike has done a really good job of kind of instilling in us that you don't have to be sports for two hours or four hours or three hours, however long your show is, like people don't only talk about sports, people talk about what they do in life," said Abdalla.
What Thomas saw in Bleck and Abdalla when he first started at the station is what earned them their spot on-air. What Thomas has seen from them since is what has earned them his praise.
"I'll give them the highest praise that I could probably give any show, and that is, I had the huge benefit of working with two of the guys that I think are the most creative guys in this industry and that's [Fred] Toucher & Rich [Shertenlieb] in Boston," said Thomas. "And when I listen to Bleck and Abdalla, I can hear some of the same types of creativity that we heard early on from Toucher & Rich.
"That's extremely flattering because that show is the marquee of his old station," said Bleck.
One of the commonalities between the two shows is their willingness to talk outside of sports. To talk about life. To talk about experiences. All of which makes for good radio, which Bleck said has been the duo's goal from the beginning.
"I feel like that's kind of the mold of what we want to be because that's what we all listened to when we were growing up is that kind of creative just talk radio that's not necessarily set on one segment and isn't afraid to try things," said Abdalla. "And when they do try things and if they do fail, they make fun of themselves and that's funny too."
To be able to do that, co-hosts need to have chemistry and a genuine friendship, all of which goes back to the halls of Libertyville High School, before they were friends and before they knew they were destined for radio together.
Now Is The Time To Build Your Bench
"There's a good chance you have a producer, production person, or even a salesperson who has a big enough personality that they can hold your attention."
As we crawl towards the Thanksgiving holiday week, many content managers are likely in the middle of figuring out what they're going to put on the air.
Since most marquee talent take the entire week off, this can present scheduling headaches.
Some stations (who can) will pick up more syndicated programming. Hey, why not? It's a cheap, easy solution that's justified by the fact that business is slow in Q4, and your GM doesn't want you spending any more money than what you have to.
Other stations will hand the microphones over to whoever happens to be available. This usually ends up being the same array of C and D listers who aren't that great, but they can cover when needed and usually tend to be affordable.
Both of these decisions, while usually made out of convenience, are terrible mistakes. Quite frankly, it's one of the many frustrations I have with spoken word media.
Content Directors should be using the holidays as an excellent opportunity for them to answer a particularly important question: DO I HAVE A BENCH???
One of the most common refrains I hear from other content managers is that they have no talent depth. Everyone constantly is searching for the "next great thing," yet I find that very few people in management that take the time or the effort to seriously explore that question.
My response to them is always, "Well, how do you know? Have you given anyone in your building a chance yet?"
Often, the answer is sitting in their own backyard, and they don't even know it.
Years ago, Gregg Giannotti was a producer at WFAN. Then Head of Programming Mark Chernoff gave him a chance to host a show because of how Giannotti sparred off-air with other hosts and producers in the building. Chernoff liked what he heard and gave his producer a shot. Now, he's hosting mornings on WFAN with Boomer Esiason in what is considered one of the best local sports-talk shows in the country. 
Carrington Harrison was an intern for us at 610 Sports Radio in Kansas City. He worked behind the scenes on Nick Wright's afternoon show and had a fairly quiet demeanor. It was rare that we ever spoke to each other. On one of his off-days, Nick was talking about Kansas State Football and Carrington called in to talk to him about it. I couldn't believe what I heard. Not only was his take on the Wildcats enlightening, but he was funny as hell. Soon after, we started working Carrington's voice into Nick's show more and eventually made C-Dot a full-time host. He's been doing afternoons on the station for several years now with different co-hosts and (in my opinion) is one of the best young voices in the format. 
There's a good chance you have a producer, production person, or even a salesperson who has a big enough personality that they can hold your attention. Why not give them the opportunity to see what they can do? Honestly, what's the risk of giving someone you think might have potential, a few at-bats to show you what they can do? If your instincts are proven wrong and they aren't as good as you thought they'd be, all you did is put a bad show on the air during a time when radio listening tends to be down, anyways.
If you go this route, make sure you set them up for success. Take the time to be involved in planning their shows. Don't leave them out on an island. Give them a producer/sidekick that can keep them from drowning. Be sure to listen and give constructive feedback. Make sure that these people know that you're not just doing them a favor. Show them that you are just as invested in this opportunity as they are.
I understand that most Content Directors are overseeing multiple brands (and in some cases, multiple brands in multiple markets). Honestly though, using the holidays to make a potential investment in your brand's future is worth the extra time and effort.
Treat holidays for what they are; a chance to explore your brand's future. Don't waste it.
Digital Platforms Should Signal The End Of Niche Linear Networks
"Whether it is niche sports or exclusive shows, the streaming platforms have proven to be valuable catch-alls. They haved turned hard-to-sell programming into part of what you get when you are motivated to subscribe by Premier League Soccer or UFC."
CBS Sports Network just isn't built to last. It seems obvious, but it was really hammered home for me on Friday when Jim Rome went off on the network for preempting the simulcast of his radio show for coverage of swimming.
"You idiots are going to preempt this show for swimming?" Rome said. "Stupid."
You don't even have to watch the video, right? You can just read the quote and his voice is immediately what you hear in your head.
John Skipper went off on a number of topics during Sports Business Journal's Media Innovators Conference last week. Some dismissed it as sour grapes. Others said his comments were those of a man that is completely unencumbered by rights deals and corporate interests.
One thing the Meadowlark Media leader said that was dead on was that there are only a few properties in sports television that truly matter.
"Until you can get the NFL, or the SEC, or the NBA on a streaming service, it's going to be marginal in this country," Skipper said in a conversation with John Ourand.
He was answering a question about the relevance of streaming services, but the fact is, he could have been talking about any outlet in the world of sports television.
With that being said, it isn't just CBS Sports Network that isn't built to last. Comcast got this message last year. That is why NBCSN is about to go dark. Sure, every niche sport has its fan base, but can you build a profitable and powerful brand on swimming, lacrosse and 3-on-3 basketball? You probably can't.
BSM's Jeremy Evans recently wrote about life in the metaverse and what it means to sports media. So much happens digitally now. Think about the last time you felt like you HAD to have a physical copy of a movie or album. It always made sense that television networks would get to this place.
Peacock, ESPN+, CBS Sports HQ and Paramount+ all have plenty to offer. Whether it is niche sports or exclusive shows, the streaming platforms have proven to be valuable catch-alls. They haved turned hard-to-sell programming into part of what you get when you are motivated to subscribe by Premier League Soccer or UFC.
CBS Sports Network isn't the only cable sports network whose existence may be on borrowed time. You know about FS1. Did you know there is an FS2? Did you know beIN Sports still exists? Don't worry. It seems most major cable operators don't know it either. The same can be said for networks with names like Eleven Sports, Maverick, and Pursuit.
In fact, when you look at that group of channels, CBS Sports Network is probably in the best shape. It may carry the low end of college football and basketball, but it at least has sports with large, national followings.
Radio simulcasts have always been cheap programming. Once the production costs are recouped, there is a straight-line path to profit. Sports networks on this level will always be interested in carrying radio simulcasts, and that is a good thing. It means better studios and more exposure for the hosts involved. When the suits can have a legitimate debate whether the live sports their network carries will draw as many viewers as the simulcast of a radio show, it may be time to rethink the path forward.
Streaming platforms weren't built exclusively for niche sports. ESPN+ launched with college football and college basketball at its core. Now that streaming platforms are here to stay though, it should start a conversation and migration.
The cable sports network was never anything more than a prestige play. It was a way to show that a broadcast network was so serious about sports that the few hours it could devote to games would never do. The problem is that ESPN got that memo decades earlier and established a juggernaut.
Even FS1, which has major talent and rights to major college football and basketball and Major League Baseball, is behind the eight ball compared to ESPN. They got a 34 year head start in Bristol! CBS Sports Network is behind FS1 and it has college football, basketball and hockey. It also has the WNBA and the NWSL. Still, it seems like it is on borrowed time. What does that mean for networks that can't get a league comissioners to take their call?
I like some of the programming on CBS Sports HQ. I think Paramount+ has been a valuable tool this college football season. There would be nothing wrong with CBS shuttering CBS Sports Network. It is just the reality of where we are headed.
CBS is run by smart people. I have faith they will see the forest thru the trees in sports media and find the right solution before they start losing money. Streaming means consolidation and unfortunately, that means there may not be room for the FS2s, Mavericks, Pursuits, and Eleven Sports of the world. That doesn't mean the sports those networks carry cannot find a new home. They may even find a home that makes more sense for them and their fans.
Can Your Station Create Its Own Holiday?
"Did you see social media on Friday? Did you see any media at all leading up to Friday? Disney created a 24-hour commercial you could not escape."
A belated happy Disney+ Day to us all!
Did you see social media on Friday? Did you see any media at all leading up to Friday? Disney created a 24-hour commercial you could not escape. The best part, from a marketing standpoint, is fans were captivated by it. They either didn't realize it was a commercial or they just didn't care.
The execution was masterful. Granted, we Star Wars fans were left wanting a bit, but Disney dropped teasers for series and movies we didn't know were coming and showed the first footage from one we have been anticipating for more than a year now.
I started thinking how a radio station could do this. How could it go out and create its own holiday? How for one day, can we make our fanbase excited and glued to social media eagerly anticipating announcements about what is coming next?
This is going to take some creativity. Disney+ is a platform full of multiple brands with multiple fanbases buying in. A sports talk station is one brand. It has varying levels of fanbases, but largely, your dedicated audience are the people that not only love sports, but also like your programming enough to be called P1s. Is that enough people to build an event like this around?
Who cares if it is or not! Go for it.
One thing that Disney did masterfully on November 12 is it brought partners into the fold and made them a key part of Disney+ Day. Fortnite announced that Boba Fett was coming to its game. TikTok announced Disney character voice changers would be available on the platform. Disney found the kind of partnerships that could spread its holiday to even the Disney+ Day equivalent of Ebenezer Scrooge.
You can do the same. Surely you have a local brewery as a partner. Can they brew a one day only beer for you? Partner with a restaurant. Can they put your station's name on the day's special? Would other partners offer discounts and promotions for celebrating the day? There are a lot of options here.
Now, what are YOU doing on your holiday? Disney has a deep well of franchises. It could squeeze Star Wars, Marvel, Pixar, its own studio and more for content and announcements. Again, you are just one brand, but there is still a lot you can do.
Build the day around announcing your special contributors for the football season. Drop new podcasts and play an extended clip on air. Announce new podcasts, the kind of things that will only be available digitally.
Look at 99.9 The Fan in Raleigh. Joe Ovies and Joe Giglio have created great, multi-episode series that are events for their audience. Like any narrative podcasts, those don't come together overnight. As long as you have enough audio to build a solid 90 second to 2 minute long preview, you have something worth bringing to the air as part of the celebration.
Do you have a contract you are waiting to expire to make a change in a prime day part? Make your station's holiday the day that the new talent or show hits the air for the first time. You can do the same for new weekend programs. Whether it is someone new coming to the station or just a new pairing, put them on air for your prime time audience to meet and have your weekday hosts help create some buzz for them.
As for the shows that are on every weekday, you have to make them special that day. Give away a big cash prize. Make the guest list epic – I mean everyone that is on air that day has to be a home run.
The other thing that Disney did so well was work to get all of its divisions involved. Check out this tweet from the Disney Parks account. Every single park around the world lit their iconic building up blue in celebration of the streaming platform's holiday.
Can you work with other stations in your building? Maybe they won't give you full on promotion, but between songs, if a DJ brings up a sports topic, would the PD be willing to have them mention that their sister station is celebrating all day? Would a news/talk PD let your talent pop on air to talk sports with their hosts and promote what is happening on your airwaves today?
The answer to these questions could be no. You don't know if you don't ask though. Also, if the answer is no, there is nothing wrong with asking for a little backup from your market manager. A station holiday is a major sales initiative after all.
The final piece of this puzzle to take away from Disney is you have to be everywhere. Any local show you air from 6 am until midnight needs to be on location. Fans should have easy access to them. How can they celebrate you if they are not allowed to be where you are?
Use the broadcasts however the sales department sees fit. Take them first to long-established clients to celebrate their loyalty on the station's holiday. Use them to draw in new clients. Show off what your station can create with its fanbase.
Money has a way of motivating everyone. So, even if your hosts don't like leaving the studio, these would be remote broadcasts priced at a premium and should have larger-than-usual talent fees attached.
Finally, let's do something Disney didn't. I was shocked that a company with this many iconic characters at its disposal and with a CEO that came from the consumer products division, didn't have a line of merchandise ready to go. Don't make that same mistake.
Create cool station shirts (not the cheap giveaway crap). Throw the logo on unexpected things like water bottles, bottle openers, facemasks, whatever! Have a merch tent wherever you go. Maybe set up a site to sell it for the day. Make the people come to you to get this stuff.
Twitter is a huge part of promoting what you do. Constantly show off what you are offering and what you have created. That is how Disney sold their event to its most dedicated fans as something not to be missed.
What were we celebrating with Disney+ Day? Nothing. Disney wasn't even really celebrating anything. It was just a series of commercials wrapped up in fun packaging. Actually, there are a lot of holidays that are just a series of commercials wrapped up in fun packaging.
Not every holiday has to celebrate something once in a lifetime. Not every holiday has to even be real. Building your own will take a long lead time, but it is doable. Get sales, promotions and programming in a room and build a plan together. If Disney+ Day taught us anything, it is a valuable way to motivate your fans to spread your message too.