Through Political and Cultural Wars, Whither Sports?
"A grand jury's decision not to charge officers in Breonna Taylor's death made sports superfluous again, with the NBA reeling and leagues such as MLB — remember baseball? — fighting for any attention."
It's useless looking beyond tomorrow in sports, much less next week or next month or next year. For all we know, more game boycotts await after officers in Kentucky weren't charged in the death of Breonna Taylor, who has been the focus of outcry in the NBA Bubble and throughout a racially torn America. All it takes is one LeBron James rage tweet, followed by a storm of protests in his league and others, for activism to shut down the games that ring hollow and trivial.
This is America in late September 2020. Forty days and nights before a hostile presidential election nothing short of unreal, sports is superfluous except when it is political. When the news arrived that only officer Brett Hankison would be charged by a grand jury — on three counts of wanton endangerment after shooting into the homes of Taylor's neighbors — the NBA's conference finals shrunk to an afterthought.
Black Lives Matter.
Until they don't, at least in Louisville.
The verdict led to violence, with two Louisville police officers shot during demonstrations and hospitalized with non-life-threatening injuries. The reaction is what James didn't want, but he'll be blamed anyway as his influence in the ongoing conflict grows more significant. Nearing his fourth NBA title, surely the most bizarre and challenging championship any sports legend has won, James sent the Taylor news to his Lakers teammates via a group text. Then he tweeted from his hotel on a campus he can't leave, which has limited his platform for social change to Zoom interviews and social media posts. He first needed only four words — "JUST SAY HER NAME'' — along with a video of Aja Monet reciting the original poem of the same title. Then he unleashed a torrent: "I've been lost for words today! I'm devastated, hurt, sad, mad! We want Justice for Breonna yet justice was met for her neighbors apartment walls and not her beautiful life. Was I surprised at the verdict. Absolutely not but damnit I was & still am hurt and heavy hearted! I send my love to Breonna mother, family and friends! I'm sorry! I'm sorry! I'm sorry!!''
This came hours after James, who had called for the officers "who committed that crime'' to be arrested, said he condemns all violence, including retaliatory attacks against police. "I've never in my 35 years ever condoned violence. I do not condone violence towards anyone,'' he said. "That's not gonna make this world or America where we want it to be."
Said teammate Danny Green: "We feel like we've taken a step back, that we haven't made the progress we were seeking. Our voices aren't being heard loud enough. But we're not going to stop.''
It wasn't what NBA players had in mind when they agreed to play at Disney World. They thought social messages, painted on courts and worn on jerseys and shoes, could help lead to systemic change. But only a trip to Louisville, en masse, would work at this point. And restrictive confinement doesn't allow for day passes, not when NBA commissioner Adam Silver is hellbent to complete his postseason without a coronavirus outbreak.
"Sadly, there was no justice today for Breonna Taylor," said Michele Roberts, executive director of the Players Association. "Her killing was the result of a string of callous and careless decisions made with a lack of regard for humanity, ultimately resulting in the death of an innocent and beautiful woman with her entire life ahead of her.''
Said Warriors coach Steve Kerr, a frequent critic of President Trump and modern-day American life: "It's just so demoralizing. It's so discouraging. I just keep thinking about the generation of American kids, of any color, is this the way we want to raise them? Is this the country we want to live in?"
For now, the various quests for championships chug along, financial formalities more than joyful pursuits. The NBA and NHL have remarkably avoided virus disruptions in their respective Bubbles and are trying to award trophies and sneak out before Covid notices. In the NFL, mindless bravado continues to be revealed as naked stupidity, starting with head coaches who don't wear masks on the sidelines, thinking play calls are more important than the wellness of other human beings. College football keeps force-feeding a disjointed season, oblivious to campuses rocked by Covid. Then we have Major League Baseball. Remember baseball?
The guinea pig sees daylight. It has been a grim and brutal experiment, muddled by dozens of game postponements and many more positive Covid tests than the powers-that-be dare to disclose. But in a few days, somehow, MLB will start its postseason and collect nearly $1 billion from broadcast partners in a distasteful money grab that prioritized — all together now — industry wealth over the health of those in uniform.
It's no reach to say this is the most important October in the sport's history. Even before the pandemic, MLB was plunging toward a crippling labor impasse next year, with the warring owners and players doomed to rub each other out. Now, there's no assurance fans will return to ballparks anytime soon, which will paralyze free agency this winter and create more ill will. The games never been been slower, all foul balls and strikeouts with a home run mixed in to curb yawning, and the human element that made the game real has been algorithmed-out by tech nerds. A shotgun regular season has been a cluster of chaos and attrition, with the abnormal and creepy leading to uncertainty and fatigue, to the point Tampa Bay manager Kevin Cash made a startling confession to ESPN.
"This isn't fun,'' said Cash, whose team only has the American League's best record.
Meaning, the postseason had better be spectacular. Because baseball, largely ignored in autumn as it is, faces competition like never before: renewed tensions over racial injustice and police brutality, news shows focused on a hostile presidential election, an NBA Finals likely to include James and, of course, Covid.
You'd be a fool to assume MLB, or sports in general, has conquered the coronavirus. This remains a silent, stealth antagonist that could strike at any time, in as many waves as it wants, and shut down every pro league and college conference in the land. In a story Trump must love, Jon Gruden and Sean Payton were among five more head coaches fined for violating the league's policy — and please don't argue that both men have had Corona and, thus, are immune for the long term. You don't know that. They don't know that. Tony Fauci doesn't know that.
"I've had the virus. I'm doing my best. I'm very sensitive about it,'' Gruden said. "I'm calling plays. I just want to communicate in these situations, and if I get fined, I'll have to pay the fine.''
In that his 2-0 Raiders are based in Las Vegas, anyone want to bet Gruden doesn't wear the mask in Week 3? Being fined $100,000 won't stop these tunnel-visioned loons in the heat of the moment. Being fined an added $250,000 won't make their owners blink. Just expectorate, baby. Never mind the message it sends to millions. And never mind that the team doctor issuing Covid advice might be a quack, such as the Chargers' physician who accidentally punctured Tyrod Taylor's lung while giving the quarterback a pain-killer injection for cracked ribs.
Then there's college football. If Touchdown Jesus, the Four Horsemen and the Gipper can't stop a breakout, I'm not sure why four of the Power Five conferences — please don't join them, Pac-12 — persist in staging a disjointed season when campuses are bombarded by Covid cases. At least Notre Dame is being responsible in postponing a game until December after 13 players were isolated; if only ruthless factories such as Clemson and LSU were as accountable, with Dabo Swinney and Ed Orgeron remaining oblivious to anything but TV riches and their competitive egos.
But when Silver said he's "clearly learning a lot from other sports'' when pondering his league's uncertain future, which likely won't involve a Bubble that remarkably has remained Covid-proof, he's primarily referring to MLB. The chaos of the summer months — outbreaks that sidelined the Marlins and Cardinals, positive tests seemingly every day — has given way to hope that a World Series actually can be completed in late October. Of course, as long as Rob Manfred is commissioner, any plan could go sideways or ass-backwards. But the playoff Bubble once thought beyond Manfred's acumen is about to happen. Teams that have qualified or remain in contention are in quarantine this week, restricted to an indefinite hotel life until they are eliminated or reach the Series, which starts Oct. 20 in that hallowed baseball hotbed of Arlington, Texas. Even when teams play at home ballparks in the first round, they can't return to their actual places of residence or wander the streets.
Finally, baseball has figured out what the NBA, NHL, WNBA and Major League Soccer knew long ago: The Bubble life is the only safe and effective sports life during a pandemic, regardless of what the NFL is claiming after just two weeks of a season vulnerable to Covid until February. It doesn't mean the postseason will finish, especially as Manfred insists on having fans in the stands in Arlington for the National League championship series — yes, an American League ballpark is hosting the NLCS — and at the World Series. Isn't the commish defeating the purpose of the Bubble by inviting fans into a Texas Bubble? Manfred doesn't care. He's an army general now, thinking he has won the battle.
"We are pressing ahead to have fans in Texas," he told USA Today. "One of the most important things to our game is the presence of fans. Starting down the path of having fans in stadiums, and in a safe and risk-free environment, is very, very important to our game."
Again, he is prioritizing money over safety. Isn't there also a competitive issue if, say, many more Dodgers fans travel to Globe Life Field for a World Series than Rays fans? Or many more Dodgers fans than Braves fans in a hypothetical NLCS? The AL playoffs will have no such issues because of California's restrictions banning large gatherings, assuring more fan-less scenes for the divisional series in San Diego and Los Angeles and the ALCS in San Diego. Isn't this all a bit, um, uneven? Manfred still doesn't care. He's a rebel without a clue, talking like a conquering hero. "The best way to say it is that 2020 presented some really, really difficult challenges for the sport, and I never worked harder to try to meet those challenges,'' he said. "I do take pride that we're just a few days away from finishing the (regular) season, an important milestone for the industry.''
As in, cha-ching!
Not that anyone is concerned about the players who have had Covid or the various spreads to family members and others they've infected. We've heard nothing about spread data because, hey, the owners are recouping some of their TV money. That has been the only end-game. But first, there is a postseason to get through and protocols to heed in a season with too much evidence of irresponsible behavior by several teams. "It's 2020. I think the sacrifices will have to continue, and this is a big part of it,'' said Cardinals reliever and Players Association committee member Andrew Miller, referring to the Bubble. "Players certainly have an appreciation for making sure we do everything we can to have a successful playoff run. That is a big part of what we're doing this year — get to the playoffs and call it what it is: Get that TV money. Hope that money gets into the game, and we find a way to survive this year that is obviously tough financially."
If a new playoff system has too many qualifiers — 16, also part of the money grab — at least we have refreshing stories for a change. With the Yankees trying to legally fend off the public release of a 2017 document that allegedly confirms them as electronic sign-stealing cheaters (and why isn't anyone talking about it?), I'm imagining Fernando Tatis Jr. in the World Series. Or the White Sox, with Jose Abreu and Tim Anderson, winning only their second Fall Classic since throwing one in 1919. You tired of the Yankees, Dodgers, Astros, Cubs and Indians? Me, too.
We're in the weirdest year of our lives. Why not think weird? I actually might watch weird, such as a World Series between … the Marlins and Rays? After 18 Miami players were infected by a July outbreak, there was thought of sending the Marlins home until next year. After all, weren't they a minor-league operation anyway? The outbreak led to a shocking breakout and a likely playoff berth. They aren't getting past the NL's first round, of course, and they aren't America's Team. But they are Pandemic's Team.
More than ever, it's important to have fun with sports, or at least try. When we're actually counting down the days to Tuesday, Nov. 3, 2020, the air might be too heavy to keep enjoying ballgames. But barring boycotts, the games are going on whether we care or not, background noise for an American maelstrom.
The Craig Carton/FanDuel Deal Is Undeniably A Good Thing
"Since returning to WFAN, Carton has been very upfront about who he is, what he has done and how he is trying to do better."
Craig Carton is destined to forever be a polarizing figure in the world of sports media. Long before he was arrested, he had plenty of detractors that considered him less of a talk show host and more of a shock jock. Add to it a conviction for his role in a Ponzi scheme that defrauded investors in order to pay back gambling debts, and it is clear that the guy's approval rating will never hit 100.
There are understandable reasons not to like a guy and then there are grudges. Grudges don't have to be personal. They don't have to spring from some sort of affront. They can easily be born out of feeling like someone has figured out a way to live a life above the rules and free of consequence for their awful actions.
Grudges can (and often do) blind us to reality. I think that is a big part of what is happening when people point to Craig Carton's new deal with FanDuel and say that there is something wrong with it.
If you missed the announcement last week, Carton is joining FanDuel as the company's first "responsible gaming ambassador." He will create content about gambling responsibly and also work with FanDuel engineers to create AI to spot problem gambling patterns. The deal gives Craig Carton a seat at the table with one of the biggest mobile sportsbooks in shaping their responsible gaming policy. Isn't that a good thing?
I probably cannot convince you to view the guy in any particular light. When it comes to former inmates being rehabilitated and getting a second chance, we tend to be very dug in with our opinions, whatever may influence them.
Undeniably, Carton did a bad thing. Swindling people out of huge chunks of money is always bad. In America, it somehow seems worse. As costs of living increase and wages remain flat, every dollar is accounted for and allotted to something for most of us. The guy should be ashamed of himself. And here's the thing: he clearly is.
Since returning to WFAN, Carton has been very upfront about who he is, what he has done and how he is trying to do better. Hell, what other station in America dedicates any time at all, even just a half hour on the weekend, to issues of addiction and recognizing problem habits? This deal with FanDuel seems perfectly in line with his previous attempts to atone.
You don't have to like Craig Carton, but you do need to acknowledge that everything he has done in terms of highlighting his problem with gambling and offering help to those that he sees a little bit of his own struggles in has been sincere. There is no reason to believe it isn't.
Under the terms of the deal, not only will Carton advise and create content for FanDuel, but the company will also make sure Hello, My Name is Craig finds a bigger platform. You can be cynical and say that this is just part of a bigger deal between FanDuel and WFAN parent company Audacy, but FanDuel's Chief Marketing Officer, Mike Raffensperger explained that it is good for the gaming industry to promote betting responsibly.
"I think what we recognize we needed is to add some humanity as to how we get this message across," he said when explaining why Carton was the perfect face for this campaign.
We see it every time we post a story about sports betting. Someone will comment that it is an evil practice and that the advertising has made sports radio disgusting. The reality is that it is no different from alcohol. For most people, it is harmless. Plenty though, cannot handle it. Still, you tell me the first time you hear an ad break on sports radio or see a commercial break during a game without a beer commercial.
If you really believe sports gambling is evil and want people to stay away from mobile or physical sportsbooks, who do you think the ideal person to be delivering that message is?
You can go with the puritan approach of tisk-tisking strangers and telling them they are flawed people that are going to Hell or you can have a guy that has literally lost it all because of his addiction out front telling you "I know I cannot place a bet and here is why. If that sounds familiar, maybe it is time for you to seek help." It seems pretty obvious to me that the latter approach is exactly what Raffensperger is talking about – using humanity to reach the people they need to.
Craig Carton committed a crime. A court of law said he had to pay for that both with restitution to his victims and with jail time. He served his time. Deals like this one with FanDuel make it possible for him to stay on schedule with the restitution payments. Even if you think he is unforgivable, that should make you happy, right?
It is admittedly strange to see a mobile sportsbook hire a "responsible gaming ambassador." I would argue though that it is only strange because it isn't something we have seen before. Be skeptical if you are the "I'll believe it when I see it" type, but I don't see why anyone wouldn't want to congratulate and celebrate both Craig Carton and FanDuel.
Covid Is A Convenient Excuse For Lowering Our Standards
"I am sick of hearing lag and noticeably different levels of soundproofing between two hosts on the same show."
I was probably four hours deep into my all-day football binge on Saturday when I started to think about the overall quality of what I was seeing. This isn't a column about whether college football is secretly better than the NFL. This is about our industry.
While you may not notice a difference in the presentation on CBS's top line SEC broadcast or on FOX's Big Noon Saturday game, it is clear how few resources are being allocated to some of the games further down the networks' priority list. ESPN doesn't even send live broadcasters to its Thursday night college football game for instance.
Covid-19 was the beginning of this. It forced every business in the broadcast industry to re-evaluate budgets and figure out how to do games when travel and the traditional set up of broadcast booths simply were not on the table.
This isn't a problem limited to game coverage either. Plenty of hosts still are not back in their radio studio. Plenty of guests on ESPN's and FS1's mid day debate shows are still appearing via Skype and Zoom connections. It is as if we have started counting on our audience not expecting quality any more.
I want to be perfectly clear. I get that this pandemic isn't over. I get that in many cases, networks and stations are trying to avoid overcrowding studios and in some cases, make accommodations for top-level talent that refuse to get vaccinated. "It's survival mode," is the answer from corporate.
Do we still need to be in survival mode though? We are 18 months into this pandemic. The majority of Americans are vaccinated. The ones who aren't are actively making a choice not to do what they need to in order to put on the best possible show they can.
I am sick of hearing lag and noticeably different levels of soundproofing between two hosts on the same show. I am sick of seeing hosts on crystal clear HD cameras in a high tech studio talk to someone on a dirty webcam that can't be bothered to even put in headphones so they don't sound like they are shouting down a hallway.
A good example is the late Highly Questionable. I really liked that show when it was done in studio. I liked a lot of the ESPN talent that popped up on the show even after Dan Le Batard left. I couldn't watch any more of the show than the two minute clips that would show up on Twitter. I didn't want to see Bomani Jones behind a giant podcast mic. The low res camera that turned Mina Kimes's house plant into a green blob gave me a headache. The complete disregard for quality made a decent show hard to watch.
There was a time when the accommodations we made for Covid-19 were totally necessary. Bosses and broadcasters did whatever they had to to get a show or a game on the air. At this point, I am starting to wonder how much of the concessions are necessary and how much are the result of executives that "good enough" is the new standard.
It is totally reasonable to argue that in an age where microphones and editing software are cheap, slick production doesn't carry the weight it once did. That is true for the podcasters and TikTokers that are creating content in spare bedrooms and home offices. If you're ESPN or FOX or SirusXM, that slick production is what sells the idea that your content is better than what people can make at home on their own.
It's soundproof studios, 4K cameras and futuristic graphics packages that make the standard setters in the industry special. Maybe your average Joe Six-Pack can't put it into words. He just knows that a lot of home-produced content sounds and looks like play time compared to what he sees or hears on a network.
Sure, the anchors are the signature of SportsCenter's heyday, but it was the stage managers, producers, and other behind-the-scenes staff doing their jobs that really made the show thrive. Those people cost money. The details they took care of may be something 90% of viewers will never notice. They will just know that they are watching a really good show. Those difference makers cannot do their jobs to the best of their abilities if everyone is being piped in from a different FaceTime feed.
In the early days of the Covid-19 pandemic we did whatever we had to. As broadcasters, we made compromises. As an audience, we accepted compromises. We were desperate for familiar entertainment and if Zoom is what it took to get it, that was just fine. There was no cure, no vaccine, things were scary and we were all anxious not knowing how long it would all last.
More than 18 months later, things may not be back to normal, but we are considerably less desperate. There are signs of normalcy in the world. Make the commitment to bring back the standard that won you so many fans in the first place.
If Netflix Wants Live Sports, F1 May Be Just The Beginning
"Netflix will shrewdly need to continue to rethink its strategy because its first-mover advantage and long-time industry leading dominance is no longer guaranteed."
In the past, Hollywood dealmakers and stockbrokers wondered whether another studio or streamer would catch Netflix.  Its dominance stemmed from being a first-mover and not having a serious competitor until Amazon and Disney ten or more years after their launch.  However, Netflix would eventually have to compete for content, original and licensed, other platforms that offered less expansive ad-based options, and additional content like live sports or a very popular series or movie premiere.  
Arguably, the pandemic accelerated the move to digital and it allowed competitors to gain subscribers because people were spending more time at home.  More subscribers and additional streaming options for consumers has not caused Netflix to faulter, but it has caused Netflix to rethink its sports strategy.  For years, Netflix was dead set again streaming live sports because of their cost and commercials—Netflix does not have advertisements on its platform currently.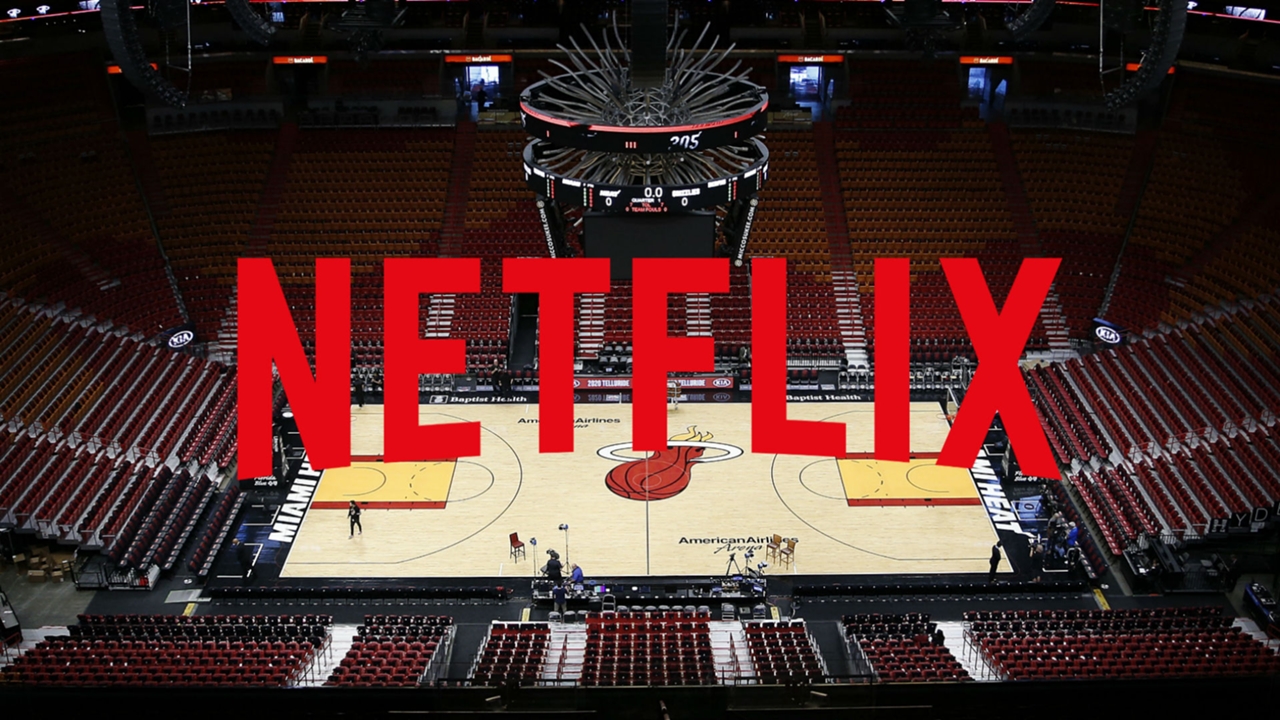 Netflix's popular Drive to Survive docuseries about the Formula 1 (or "F1") racing circuit, which was renewed for a fourth season, and the Michael Jordan/Chicago Bulls The Last Dance represents a golden era and renaissance of sports documentaries.  As much as fans of feature films and television series enjoy learning about actors during and off camera they similarly want to know about sports stars, their coaches, and franchises.  In other words, the business of sports is booming in valuation and behind-the-scenes content.  
Recently, Netflix CEO Reed Hastings stated that the popularity of Drive to Survive has caused the company to rethink its stance on purchasing live sports content.  The broadcast and streaming rights to Formula 1 will become available via ESPN and Sky Sports in 2022 and 2024.  Netflix, will have some competition to secure F1 rights, which will drive up the cost.  It was also reported by Front Office Sports that the Netflix CEO would require a level of exclusivity for sports rights that other platforms do not normally require.  The exclusivity is likely required because Netflix will want to justify the purchase price and to keep-in-line with what Netflix customers expect—exclusive content on the platform.  
With Premier League club Manchester United looking to secure a broadcast deal for selling its rights outside of the traditional league format, it might be the perfect acquisition for Netflix. An exclusive team vs. an entire league would also be less expensive and more targeted. One aspect of uncertainty for all streamers is their subscribers overseas, particularly in untapped China. The international market is far from settled or established. Netflix also has a large operation in India so possibly cricket via the Indian Premier League ("IPL") could be a rights purchase to consider.
In 2018, the original content on Netflix only accounted for 8%.  This means that 92% of the content on the platform just a few years ago was all owned (at least partially) by someone else.  That statistic has changed because Disney+, Paramount+, Peacock, HBO Max, Apple+, and many others have since been created and stocked or restocked with content.  Controlling interest in Hulu was even purchased from FOX by Disney.  Disney and Amazon now both rival Netflix in terms of subscribers.  Netflix will shrewdly need to continue to rethink its strategy because its first-mover advantage and long-time industry leading dominance is no longer guaranteed.  
As Comcast-owned NBCUniversal CEO Brian Roberts recently said, purchasing sports rights can be difficult.  Sports rights are expensive.  Exclusive sports rights are even more expensive.  Sports rights only become available every five to ten years.  Networks and streamers are highly competitive to secure those rights with the hope of landing viewers, subscribers, and advertising dollars.  
Will Netflix get into sports rights bidding?  In the past, the digital entertainment giant has been steadfast is its non-sports approach.  However, the market has changed and is flooded with more competitors now.  Netflix has to change to meet its customer and the market needs.  
Formula 1 presents an interesting scenario for Netflix as a buyer and partner.  F1 is a popular league internationally and growing in the United States.  Two new F1 races in Miami, Florida, and Austin, Texas, in addition to season four of the Drive to Survive Netflix series are sure to drive traffic, pun intended, and interest in the racing sport.  
Formula 1 is a sports league that will cost less to purchase streaming rights than a traditional American "Big 4" like the NBA, NFL, or MLB.  Formula 1's structure is also centered at the top so it would be easier to make an exclusive deal that Netflix seeks.  The remaining questions being, will Netflix pursue Formula 1 sports rights to increase its streaming platform subscribers and compete with others?  Second, will Netflix be the first to offer commercial free live sports programming—for a premium price—or offer in-screen ads and additional during-break inside looks, content, and analysis?  Or will Netflix act more like a traditional broadcaster and offer advertisements to pay down its purchase price?  One will know more after a few laps around the sun.