LIVE From Santa Monica, The American Apocalypse
"Caught in the crossfire of civil unrest, Jay Mariotti wonders if a tortured and anguished America can recover from the convergence of police brutality, a devastating pandemic and rampant unemployment."
This is my turf, the beach community of Santa Monica, where I moved to worship the sun and escape the crime and deep freeze of Chicago. And I've just watched paradise degenerate into Hell On Earth, CA, 90409. We are almost 2,000 miles from Minneapolis, but looking around, the world feels as bleak as it did when a racist cop pressed his knee for more than eight minutes against the neck of George Floyd, killing him.
Over there on Ocean Avenue, where I drive my bike most days, a row of police officers is firing hard rubber bullets and smoke bombs into a sea of protesters ignoring a curfew. Across the street, where I swam for years at a resort pool, a fire extinguisher is thrown from an apartment building, among many projectiles — rocks, glass, golf balls, M-80 firecrackers — hurled at police. And Chez Jay, the dive bar by the famed pier where Ben Affleck and Matt Damon wrote "Good Will Hunting'' and John F. Kennedy rendezvoused with Marilyn Monroe … rat-a-tat-tat, there goes a round of pepper spray balls.
"STOP KILLING BLACK PEOPLE,'' reads a sign.
"END THE HATE,'' reads another.
Lawlessness is one-upping sunshine as the prevailing mood. Protesters throw bottles, telling the cops to "(bleep) yourselves,'' but the police don't make mass arrests until later in the night. Looters are everywhere — busting windows, storming into stores and pharmacies and stealing merchandise from establishments that have been shuttered for months by the pandemic. Helicopters are hovering, innocent people are running for shelter. If anyone is wearing a mask, it's a rarity. A grocery store where I've shopped is surrounded by a SWAT team, snuffing out the food looters. Blocks away, a police car is on fire beside Civic Auditorium, where they handed out Oscars in the '60s and once hosted Pink Floyd, Queen, Bowie, Springsteen and the Eagles.
Welcome to the Hotel California. Such a lovely place …
Fortunately, I don't live in the thick of the skirmish lines. But this is the area, on the westside of Los Angeles, where I walk, eat, drink, socialize, shop, write, exercise, sip espresso and visit the doctor and dentist. What started as a downtown L.A. curfew extended to two nights of stay-home orders in response to mass rioting and looting throughout a sprawling metropolis, returning us to isolation just as COVID-19 lockdowns were easing, businesses were opening and you actually could sit down at a restaurant or get a haircut. Forget about that cheeseburger, beer and sideburns cleanup when the governor deploys the National Guard, last summoned to the L.A. streets in 1992, when the cops who beat Rodney King were freed by a not-guilty verdict.
Were the military Humvees, carrying Guardsmen with M-4 rifles, hauling ass down the 10 freeway? Why, yes, they were, settling after dark in locations throughout town, including the courthouse where O.J. Simpson lost the civil suit. And that crackling. Was that a round of fireworks or gunfire? Why was I hearing Rage Against The Machine in my head? There always will be blue skies and oblivious surfers in these parts, but anarchy is the new SoCal vibe. Yes, that was sports troublemaker JR Smith in a TMZ video, kicking the hell out of a white man who allegedly smashed his car window in a residential neighborhood somewhere in the L.A. fray. "I chased him down and whipped his ass,'' Smith said in a video. "This ain't no hate crime. I ain't got no problem with nobody who ain't got no problem with me. It's a problem with the mother(bleeping) system. That's it. … One of these mother(bleeping) white boys didn't know where he was going and broke my (bleeping) window in my truck."
A more measured social observer, basketball great Kareem Abdul-Jabbar, captured the biggest picture with appropriate dignity. "Those people out there are demonstrating for something that is very valid," he told KTLA. "The idea that all men are created equal is not really applied to our justice system.''
He's right. Why would an evil cop let a little old pandemic stop him when there's hatred to vent, a neck to suffocate and an unarmed black man to murder? Why let the most catastrophic health crisis of our time interfere with an enemy no vaccine ever will cure? We could push a reset button on life as we've known it, which sounds like a fine idea right now, and there still would be a white police officer brutalizing a fellow human being for no other reason than the malignant growth of racism.
If this isn't the 21st-century apocalypse, what is? One hundred million Americans have been killed by the coronavirus, 40 million are jobless, at least 1.5 million are homeless, scads of COVID-iots won't wear masks to safeguard themselves and others from infection — and now, as if on cue from the usual demons heckling in the balcony box, our red, white and blue canvas is covered by mayhem, flames, sirens and mass destruction that might only be getting started. Of course, police brutality, civil unrest and the resulting violence would rear their wicked fangs with the worst timing imaginable, further battering a nation crippled by a pandemic that has conflated hellishly into political, economic and wellness divides.
Pleaded Los Angeles mayor Eric Garcetti, who extended the overnight curfew to 5:30 a.m. Monday: "With liberty comes the responsibility to be able to peacefully protest. We cannot, though, protect our ability to protect life when we see people are looting. We cannot protect our ability to protect life when we see fires set in dense urban areas that not only endanger firefighters, but could put buildings or residents up in flames. We've seen this before in Los Angeles. When the violence escalates, no one wins."
As for President Trump, is he still threatening White House protesters with "vicious dogs'' and "ominous weapons?'' Or do more infantile tweets await from the man who created much of the madness?
It's difficult to think about much else when the country is a war zone. Needless to say, sports is only on the minds of degenerate gamblers and, I suppose, the leagues and broadcast networks desperate to recoup lost fortunes. This is no time to insult an American intellect that is pummeled and exhausted yet still armed with perspective. Don't say the fires that burned in Minnesota, the demonstrations demanding justice for another victim who couldn't breathe, ever could be soothed by — mute the ESPN theme music — the return of live games. Don't suggest we can escape an inane presidency of Twitter bombs, currently flagged by a yogi tech titan who fasts on weekends and meditates in Myanmar, by simply sitting back and watching round balls dribbled and batted in quiet buildings.
But soon enough, after a respectful pause, we'll again read the leaked stories that continue to incrementally push a $200-billion industry toward a resumption of games. If the summer continues to be intense — and why wouldn't it? — does it make even less sense than before to carry on with basketball and baseball and, at some point, pro and college football? The sports-obsessed Spike Lee, when asked when Hollywood film production might resume, said this to Vanity Fair BEFORE Floyd's death: "They ain't doing a thing until the vaccine. I know I'm not going to a movie theater. I know I'm not going to a Broadway show. I know I'm not going to Yankee Stadium. Corona is a bitch. Corona is not playing. You (bleep) around, you're going to get killed, you're going to die. I'm not ready to go." Are similarly smart people really going to watch a ballgame when, in addition to the lurking virus, your city is burning on 15 other TV channels? Will athletes and their families be able to focus on games amid the unrest when, as it is, they are imperiled by virus outbreaks no matter how many tests are readily available?
Logic makes a strong argument for American sports to shut down until 2021. Why not monitor the national condition, as well as the re-openings of European soccer leagues to see if the pandemic strikes back in those countries? Oh, I forgot. Billions of dollars are at stake, with team owners and network executives aghast at the thought of dented empires, while some players are convinced they're invincible and bigger than any silly virus. Until we hear otherwise, assume the NBA is returning in late July and that Major League Baseball will continue to wage its internal labor battles — so inappropriate, so dumb — before deciding whether to play an abbreviated season or fade into much-deserved oblivion.
I must say, even when idle, sports has managed to hammer home its considerable influence in the hours after Floyd's death. The immediate outcry might be recalled as more important than any games scratched out in the fraught months ahead. Who needs LeBron James trying to win a playoff series in an Orlando quarantine bubble when he's posting a photo of Derek Chauvin's knee juxtaposed beside a photo of Colin Kaepernick kneeling on a sideline? There is a time and place for social activism in sports. This is the time and place, after the murders of Floyd, Ahmaud Arbery and Breonna Taylor. Michael Jordan, formerly activism-phobic, answered criticism from "The Last Dance'' docu-series by condemning police brutality, writing in a statement, "I am deeply saddened, truly pained and plain angry. I see and feel everyone's pain, outrage and frustration. I stand with those who are calling out the ingrained racism and violence toward people of color in our country. We have had enough."
We have yet to hear from current sports G.O.A.T. Tom Brady, who has been disproportionately visible during the pandemic — cussing up a storm with Howard Stern, telling golf razzer Charles Barkley to "take a suck of that'' after a miracle birdie, irresponsibly hawking coronavirus-aimed supplements — but somehow can't lash out against racism even when challenged by a HOCKEY star, Evander Kane.
Still, sports spoke, with backlash from an unexpected source, North Carolina Central basketball coach LeVelle Moton, who told ESPN Radio that he's alarmed by the silence of Power Five basketball and football coaches — you know, the legends — in the wake of Floyd's death. I agree. The quiet is deafening, as LeBron would agree.
"Do you understand NOW?'' asked James, reminding the world why Kaepernick protested against police violence.
Then there was Jaylen Brown, the young Celtics star, driving 15 hours from Boston to lead a peaceful protest in Atlanta, near his hometown of Marietta, Ga. "Being a celebrity, being an NBA player, don't exclude me from no conversations at all. First and foremost, I'm a black man and I'm a member of this community,'' said Brown, a vice president of the National Basketball Players Association. "We're raising awareness for some of the injustices that we've been seeing. It's not OK. As a young person, you've got to listen to our perspective. Our voices need to be heard. I'm 23 years old. I don't know all of the answers. But I feel how everybody else is feeling, for sure. No question."
If and when the games resume, they will distract us for a nanosecond — maybe — from the turbulent scenes nationwide. But sports can't delete the sick images of a creep as distinct and despicable as Chauvin, as we enter a fourth month (or is it the sixth or 10th?) of battling a devil ghost that has drained a country's spirit and bank accounts. There can be no diversion. We're too far gone.
Basically, the tinderbox that is America needs something, anything, that will function through the chaos and not break down in crisis. This is how sports can re-enter the murk if it so audaciously insists — and how a progressive league such as the NBA is positioned to at least get up and running while a graying, labor-torn, out-of-touch fossil such as MLB is ill-equipped to lead in tumultuous times. And I say that knowing the Players Association submitted a proposal to play a 114-game season — a marked increase from the previous 82 — that allows all players to opt out of the 2020 season over coronavirus concerns. The owners will reject it, and then what?
If sports must return, it might as well launch with its best shot to succeed. That would be the NBA, led by a woke commissioner presiding over a predominantly African-American league. Whether it was James' tweet … or Brown's march … or Stephen Jackson speaking out about his friendship with Floyd … or Steve Kerr trashing Vice President Mike Pence for a White House tweet that denounced the mass protests … or teams releasing statements condemning racism and violence against the black community … let's just say the response was exactly what we've come to expect from Adam Silver's league. "This is murder. Disgusting,'' Kerr tweeted. "Seriously, what the hell is wrong with the U.S.????''
A ballgame never has seemed more frivolous and inconsequential. But here is one reason America still can bond with sports: The NBA gets it. And it will remind us, even inside a Disney World bubble fraught with peril, that pro basketball maintains a social conscience that baseball woefully lacks. For several days, I've also seen sports people beyond the NBA, athletes and coaches and executives, rail against the relentless scourge of racism. Even Joe Burrow, himself only 23, was savvy enough to wax responsibly as an NFL rookie: "The black community needs our help. They have been unheard for far too long. Open your ears, listen and speak. This isn't politics. This is human rights.'' But, disturbingly, I had to search hard to find related baseball tweets before seeing this from the thoughtful Sean Doolittle, who wrote, "Racism is America's Original Sin. It was here before we even forged a nation and has been passed down from generation to generation. And we still struggle to acknowledge that it even exists, much less atone for it.''
Why not more MLB-based reaction? Maybe because only 68 of the 882 major-leaguers on Opening Day rosters last season — 7.7 percent — were African American. The Los Angeles Dodgers, who showcase a statue of racial groundbreaker Jackie Robinson outside a stadium near the rioting, didn't have one black player … and 11 teams had no more than one. The sport that once heralded Henry Aaron and Willie Mays as its greatest stars has lost a generation of talented athletes to basketball and football, with African Americans comprising 75 percent of NBA rosters and 70 percent of NFL rosters. NFL commissioner Roger Goodell was quick to issue a statement: "As current events dramatically underscore, there remains much more to do as a country and as a league. These tragedies inform the NFL's commitment and our ongoing efforts. There remains an urgent need for action. We recognize the power of our platform in communities and as part of the fabric of American society. We embrace that responsibility and are committed to continuing the important work to address these systemic issues together with our players, clubs and partners." To which veteran receiver Kenny Stills, speaking for many players, replied, "Save the bull(bleep).''
We're still waiting for a statement from MLB commissioner Rob Manfred, who does not get it and never will.
Not to generalize, because the likes of Doolittle, Marcus Stroman and Paul DeJong are as enlightened as any modern athlete. But baseball isn't exactly brimming with social awareness. Can you believe some players have said they won't obey COVID-19 protocol rules that ban sunflower seeds, chewing tobacco and the spitting necessary for both functions?
"Wait, what? I'm 100 percent gonna spit,'' Colorado outfielder Charlie Blackmon, the four-time All-Star, told Sports Illustrated. "That's ingrained in my playing the game. Whether or not I'm dipping or chewing gum, I'm still gonna spit. I have to occupy my mind. It's like putting things on autopilot. I don't have this idle time where my consciousness wanders. I fill my time with thought processes that are like a cruise control."
There's woke. And there's wack.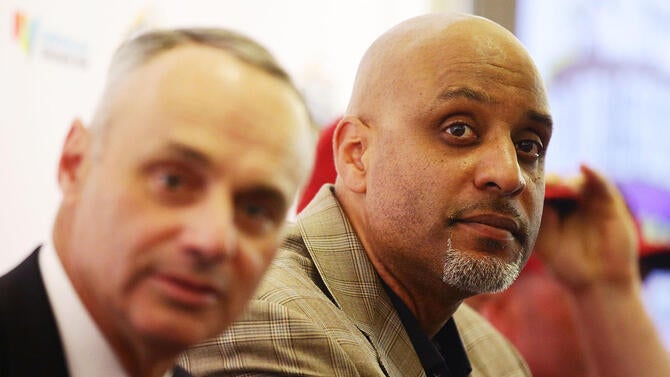 When I see the brainpower and energy invested in the rush to resume sports — the race to be the first major league back in business on U.S. soil — I wonder why such efforts and dynamism aren't redirected to where they're truly needed: medical science, race relations, leadership. In the case of baseball, such missions are laughable. MLB has tried to advance its role as a comforting, restorative balm, which is especially hokey with the league in its usual self-destructive labor mode. Once again, owners would rather portray players as greedy, pandemic-deaf ingrates than embrace a gift of the calendar: a July 4 holiday, in the heat of a volatile summer, that could present the sport in a rare positive light. Imagine a temporary truce, a mutual willingness to table their money differences and give the country a patriotic mental-health option.
Silly me. Meet the new commissioner, same as the old commissioner, representing the same ownership mindset that almost killed baseball in the mid-'90s … and might bury the sport forever if the season is canceled because of financial contretemps that never have been more galling than amid a national crisis.
All of which leaves the NBA poised to lead at some point, near or far, as MLB crashes. Not that a cumulative wokeness can stop a virus outbreak, of course, one that could end a season as abruptly as it stopped on Rudy Gobert Night. As an indoor endeavor played by men in shorts who sweat and spray saliva on every possession, basketball is the one sport in which positive tests are inevitable. Which could lead to disarray, in particular if athletes and family members foolishly slip away from the "campus'' and venture into Orlando, then spread whatever they might catch throughout this so-called Magic Kingdom of roundball. Remember: America may be over the pandemic, but the pandemic is not over.
At least the coronavirus has a puncher's chance for an eventual cure. Racism is untreatable, terminal, beyond hope. My suggestion, for a pure sports fix, would be to find a happy place where children are enjoying a game for the fun of it.
Wait. The park where I watched fathers toss balls to their kids? You may have seen it in the news footage, caught in hatred's crossfire.
Landry Locker Takes Something From Everyone
"I think different talent needs different things. In my case, and I don't like admitting it, I probably sometimes have needed a little bit of a kick, a little bit of tough love, a little bit of discomfort."
Sports radio has always been a big part of Landry Locker's life. When he was growing up in the Dallas-Fort Worth area — Grapevine, Texas to be exact — Landry's dad used to have sports radio on in the house as background noise. How awesome is that? You'll hear that an athlete like Steph Curry has basketball in his veins. It works the same way with Landry; sports radio has been in his blood from an early age.
Landry hosts In The Loop on SportsRadio 610 in Houston. His program director, Armen Williams, says that Landry digs into the audio vault more than anyone he's ever worked with. It's interesting to hear why audio is so important to Landry's approach to sports radio.
He also describes the PDs he's worked for, the lowly Texans, replacing the rush of doing radio, and tapping the brakes on self-criticism. Enjoy!
BN: From listening to sports radio in Dallas when you were a young kid, what have you taken from those years that you still apply to today?

LL: Pretty much everything. Sportsradio 1310 The Ticket started in the mid-90s. My dad was the kind of guy, before my parents got divorced, who would have sports radio on in the house as the background noise. When that started, The Ticket and all of that, that was a big influence just because it was 24/7. It's always been something that I've gotten into whether it's I want to hear what so-and-so has to say after the game, all of the reaction and all of that type of stuff. It's always been a big part of my life, especially when The Ticket came around during the Cowboys' second Super Bowl run.

BN: Is there anything in terms of a host's style, not that you're copying it, but you look and say I like what that guy does, and maybe subconsciously, that's gone into your approach?

LL: I take something from everyone, even growing up, or the people that I've worked with in the business throughout my career. I think you take stuff from everybody. Different styles, there's not really anyone that I try to be, but I think you can learn from certain people. I would say The Ticket, not to take yourself too serious. I think you could learn from guys who are real sports guys, old school, just how to do your research and be on top of your stuff.
I've worked with Randy Galloway when I was in Dallas and Ben and Skin. I kind of model myself after those guys kind of being loose; being sportsy and non-sportsy at the same time. Ken Carman and Anthony Lima in Cleveland, I was with them for like five months. I had a brief stop in Cleveland. I think the creativity of those guys I take in. I really just try to take in something from everybody, old school, new school, all that, and just incorporate it into what I do on a daily basis.

BN: Why was the Cleveland stint so short?

LL: The Cleveland thing was just a good opportunity because it was a chance to branch out and I really like Andy Roth, their program director. I think he's a really, really, really good PD. I like Ken and Anthony. It was when their show first started. When I got there it was more so — and Ken and I are still good buddies — but Cleveland wants you to be from Cleveland. It is 100 percent from Cleveland.
When some jackass from Texas comes in there and is talking about LeBron James or something like that — there are some cities where that works. There are a lot of transplants in Houston and there are a lot of transplants even in New York. Sometimes you can go do that; Cleveland's not the city for that. No matter how well I worked with Ken and Anthony, the shelf life was kind of limited on how much you could climb up.
Nick Wright actually got his job to go national, so I became the producer of the morning show here. They gave me immediate reps on air. I just took that experience as much as I could, the six months in Cleveland, and brought it here. But you know how it is in Cleveland; you could say the smartest thing in the world, but if they check your ID and they see that you're not from Ohio, you can basically go to hell. It doesn't matter what you said. That's not a knock on 'em. That's why it's so popular there. That's why it's one of those cities where you go in the gas station, they've got The Fan on there. They're ready to get it, but I could basically solve the cure for cancer and they don't give a rat's butt what I'm saying in Cleveland. I understood that from the jump.

BN: Is Dallas like that at all?

LL: I don't think Dallas is like that because if you just look at the lineup, a lot of the guys from The Ticket, there's a guy from Wisconsin in Bob Sturm. There's a guy from Cleveland in Dan McDowell. There's just guys from other places. RJ Choppy originally went to college at Tennessee, then he went to New Jersey. Shan Shariff was in Maryland, Kansas City and all that stuff. Houston has a lot of transplants. You do want to know what you're talking about and you do want to have a grasp of history.
There's a legendary tale about Nick Wright when he came to Houston from Kansas City that I just always admired, even when I didn't even know anything about Nick Wright. When he had his job interview with Gavin Spittle, who's the PD now in Dallas, Nick had like four pages, front and back, basically he'd written out the sports history of Houston. It went from the Oilers to the Rockets, all that, and it was handwritten. It wasn't just printed out. When I came here, even when I went to Cleveland, I would try to follow that. They are open in Houston and Dallas, but you have to show that you respect the history and have a grasp of it. Then you just have to perform on the air.

BN: You've had a few different program directors from Jeff Catlin to Andy Roth and Armen Williams. What are the similarities and differences between those guys?

LL: Well, Jeff's a hard-ass. Jeff Catlin is an ass-kicker. The one thing that I can take from Jeff is that he's no nonsense. If you deserve to be cussed out, you're going to get cussed out. If you screw up, he's going to let you know. He is going to let your work speak for itself. He's going to welcome feedback and he's no nonsense. No nonsense Jeff Catlin. Being the ultimate professional, no nonsense, is something I took from Jeff.
Andy's just a hard worker who is one hundred percent engaged in programming. Whether you're on at 6am or 10pm; if you play a sound clip and you don't credit FOX Sports or you don't credit ESPN, Andy is going to let you know about it. He's going to give you feedback and it's going to be transparent. It can get a little bit intense with Andy, but it's always going to be honest and he cares about the on-air product. And he's going to work his ass off.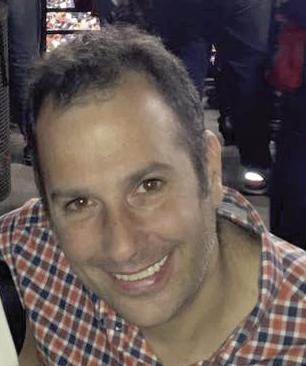 Armen is a guy who has a lot of the same qualities as both of those guys. It's kind of like a mix of both. I think the thing that Armen has on those guys is he's been in radio for life. He's a guy who was working at radio stations when he was young. He's a guy who was working in promotions. He's a guy who was a producer. He's a guy who went and became a PD. I think Armen is just about that radio life and he's kind of a combination of all those guys.
Armen's also very, very good at imaging and very, very good at creating the notion that the station is on the right topic. I think he has that grasp down very, very good to where what do we need to be talking about? Sometimes we'll go in to commercial and imaging will be so new it's like dang, how did he flip that so quick? I think Armen is kind of a combination of those two. There's been a lot of guys I've worked with and I've picked all their brains and they all provide a little bit of something.
BN: If there's one thing a talent needs most from a PD, what is it?

LL: I think different talent needs different things. In my case, and I don't like admitting it, I probably sometimes have needed a little bit of a kick, a little bit of tough love, a little bit of discomfort. I think it kind of depends. I think some guys probably need airchecks a little bit more. I think some guys need to be coddled. I think some guys need to be kicked in the butt.
It's like when someone asks you what's the key to a good show, I don't know because there are so many different styles. But I think different guys need different stuff. I think the most important thing is that you need a PD who's able to treat people differently, almost like a coach. I think you need a PD that's going to be able to have a grasp of what each guy needs. I've been fortunate to work with PDs who've been able to do that.

BN: Working with a highly respected talent like John Lopez, who has teamed with Nick Wright and a few others, what's one of the main things that you've taken from him as a talent?

LL: I've been very fortunate to work with John because I think that when you've been doing it as long as he has — I call him the OG for a reason — there's a better chance that guy is going to have a little bit of jerk in him, and he's going to tell you it's his way or the highway. John has allowed me to not take over, but put my creative spin on it, and he kind of plays off me. I know a lot of times it can be annoying for him. John is like a unique guy in that he's been doing it as long as he has, but he's pretty carefree and as long as you develop his trust, he's going to play off of you.
There's immediate credibility that comes with somebody who's been around as long as Lopez has. The likability, the experience, and just the open-mindedness, I've been very fortunate with John Lopez. I've seen some guys in his situation who will just lay out. They're not going to do anything. I could ask Lopez hey, give me a list of 10 blah, blah, blah, and he'll do it. He's just a lot more open-minded than a lot of people that have been doing it as long as him have been. He has that credibility. He has that likability.

BN: So the Texans stink as you know. And you're the flagship station at 610. What's that like to do a balancing act?

LL: Well, we don't have to. It's really actually kind of crazy; they are very, very fair to us. You wouldn't know that we were the flagship with the way we talk. They understand the situation and they've let us criticize them as much as possible, which is rare. I know there are other teams in town that don't allow that. I've seen some teams do it, but they really, really do let us be honest and transparent about it. I haven't had to endure any walking the line or anything like that.
We've talked about anything and everything and they're very fair. We've talked about how bad David Culley is at managing games. We've talked about the culture problems. We've talked about Nick Caserio not winning trades. I mean I can't lie.
I want to say something good about them; it's just there's nothing. They don't have any good young players. They've traded all their draft picks. They're the worst team in the league. The coach is making brain fart after brain fart. There's culture issues. There's trust issues. I want something, they're just not giving it to me. I haven't gotten any calls for things that I've said or anything. It sucks to cover a team this bad, but they let us do our job for sure.

BN: Armen told me that you dig into the audio vault more than anyone he's ever worked with. He said you call it going into the lab. Why is it so important to you?

LL: I think that it's part of the story. I think especially in NFL-centric cities where it's a week-long buildup, if David Culley said that he trusts the culture after Week 1, and you can remember that and go back to after you lose eight straight games, I think it's important. I think it's part of the story and I think you're not dependent on a team being good. Audio is a big part of what we do. When someone sends a cut sheet, I listen to every single clip and I'll trim it. If there's a Sunday press conference or something like that and they say yesterday, I'll take out the word yesterday just so that it's timely.
In Buffalo or wherever, like a good city, they can just depend on breaking down each game. But if you're building up the story and you're talking about David Culley said this, or David Johnson said that, or I can remember way back in the day when so and so said this, let's compare it to that, I just think the build-up doesn't get old and the story doesn't die. I have a photographic memory where I'll remember something that someone said like 15 years ago. I think it adds to the intrigue just what is being said and I'm not dependent on the team being good.
BN: When you finish a show do you look back like, ahh man, I didn't think about playing this one clip or I didn't think about saying this one thing? Are you built like that, or are you just kind of like hey man, the show was pretty good, we'll get 'em tomorrow?

LL: Sometimes I'll get done with the show and be like man, that sucked. I'll be like that was terrible; I should have done this, this, this, this. I think you kind of have to stop doing that at a certain point. I don't ever think you should do a show and just say it's over, move on. But I used to beat myself up to where it was basically like you can't sleep and you think you stink and all of that type of stuff.
I do sometimes wonder if we left some meat on the bone. Other times I'll think it was good and I'll listen back, and I'll be like man, that sucked. That really wasn't that good. That's probably the most uncomfortable thing for me is listening to myself, but I have to do it. I'm still kind of my own worst critic, but you do have to kind of tap the brakes a little bit when it comes to criticizing yourself. Still be aware but you do have to tone it down a little bit because I would just beat myself up and not even be able to enjoy the rest of my day.

BN: Do you have any particular goals that you're working toward?

LL: I think eventually I would like to get in drive time. I like having the midday, but I'd like to get into drive time, try to figure that type of thing out. I just want to continue to build credibility. I want to be the guy that people go to in Houston where if something happens, if Deshaun Watson gets traded, it's hey we've got to hear what Landry Locker has to say about that. That's really the goal.
As far as going national, stuff like that, I like local radio. I think local radio is the best. This is the second time I've quoted Nick Wright; Nick was asked about radio and he said local radio is not going anywhere because it's really the place that you go to figure things out about your squad. It's a service, it's part of the community, so I really like the local thing. I just want to continue to get better, branch out, and be as good at this as possible and expand as the business continues to grow.

BN: When it comes to the most fun you've had in all your days of doing radio, where were you and what was it about that situation that was so fun?

LL: Man, I feel like I wish I could just point to one thing, but I get such a rush doing shows, even in different roles, that it's like I can't even really answer that question. I had a very fun time when I got my first on-air segment; that was with Ben and Skin back in Dallas. They called it the Locker Room. It was so exciting. The first time you get to host that show, that was fun. Cleveland when the Cavs won the championship and I was with Ken and Anthony. When the Astros won the World Series here. Reaction Mondays are just amazing to me because you're reacting to the game, the fans are feeding off the energy. 
There's really just not one time that I can point to and say — and I'm not trying to be corny or anything like that — but I just think the full rush of putting together a four-hour show, talking to sports fans which are the most passionate, there's not really one thing I can point to. I wish I could, but there's just so many good times. It's hard to list what the one would be.

BN: I agree with you about local radio, I don't think it's going anywhere, but let's just say it did. Or there are cuts or whatever and you're no longer in radio. It's almost like an athlete who says what am I doing now that my career is over? What would you do after your radio career to try to get the same rush?
LL: Yeah, I don't know. That's one of those things where you just have to have the perspective. I have had that disappointment when ESPN 103.3 got bought out and Catlin said "I think you should try to branch out and figure something else out." I have tasted it before. I don't know what I would do. I don't know what I'm really good at. I have no idea what I would do without it. I try not to think about it too much but man, a lot of guys have had to answer that question. I'm just blessed to not have to answer that question right now at the very least. It's a scary thought to think about not doing this.
Even Sports Talk Hosts Have To Make Halftime Adjustments
"Every walk of life can benefit from halftime adjustments."
Richard Johnson of Sports Illustrated and the SEC Network didn't play football beyond high school. Still, he really understands scheme and personnel packages. This past Sunday on his podcast, Split Zone Duo, Johnson said that he had listeners tell him that he could be a coach and he gave a great answer to that.
He said that if you study and if you played football at all, you can probably script an opening drive for a team. That isn't hard. There aren't a lot of people on Earth though that can make mid-game adjustments to respond to what the other team is doing. That is something that comes with experience and really, truly knowing football. He isn't one of those people.
Every walk of life can benefit from halftime adjustments.
We have crossed the halfway point on the NFL season. I reached out to several broadcasters to see how they have adjusted what they do and how they talk about the home team.
The NFL is a league that always throws wrenches at us. Parity allows teams expected to hover around .500 to be in contention for a playoff bye with just a few borderline calls going their way. The violence of football means we are talking about injuries all the time and those injuries can derail even the most promising of seasons. Golden Boy rookies struggle to adjust to the speed of the pro game and fans start to panic. A great local host has to absorb and reflect all of that.
Four hosts in NFL markets told me how their coverage and conversations about the home team have changed from the preseason to now.
ANDREW FILLIPPONI – 93.7 THE FAN IN PITTSBURGH
Our Steelers conversation has focused on the present and future of the quarterback position in Pittsburgh. Initially, it was a referendum on the team's decision to bring back Ben Roethlisberger for an 18th season. Then, when the Steelers fell to 1-3, it turned into a look at the external options for the position in 2022: the college draft class and Aaron Rodgers.
Now with the Steelers 5-3-1, there's more interest in how this team will finish. Will it make the playoffs or not? Will there be another December/January collapse? So I anticipate there will be a lot of discussion about the current team's performance in the weeks ahead.
JASON MARTIN – 104.5 THE ZONE IN NASHVILLE
Covering the Titans is always a ride, or it certainly has been during the time I've had a regular platform to talk about them. The fanbase has been battered and beaten down by mediocrity and disappointment, though under Mike Vrabel and Jon Robinson, the hope and optimism is high. The beginning of the 2021 season was different because Tennessee won the AFC South last season, exorcised some of the old Colts demons, and had a legit MVP candidate in Derrick Henry. Add to it big name free agent moves like Julio Jones and Bud Dupree and it grows into an electric atmosphere in the audience and one where they look everywhere for applause for the team they love so much.
That said, it's also one that has a tendency to get overly defensive whenever any of the optimism is challenged. I've found myself on the outs with some people at times, like any local host would, because I've been a little more negative, not by design, but just because I don't feel my own analysis is worth anything if it isn't objective. If I don't tell you exactly what I think, if I just go along to get along all the time, why would anything I say have any relevance or weight? It's just my opinion, but I want it to matter when I say something's going right, when I offer up praise, or when I say the Titans are one of the best teams in the league. The only way to make that happen is to also be direct when things aren't going well and when criticism is warranted.
Once Henry was injured, I felt strongly that the chances of winning a Super Bowl dropped off a cliff. I predicted before the season this team would win the big game (I'd never done that before), but had to pivot and say a few weeks ago if 22 didn't return this season, the playoffs would be the ceiling, not the Lombardi. But, the key is in always keeping a door open until it's fully closed. I may have learned that a few weeks ago also, because of course, there's still a chance until this team loses a playoff game. You have to be authentic, but also be willing to listen to a passionate fanbase that educates itself well on the team and cares deeply about the results every season. There's no reason to be confrontational just for the sake of it. Objectivity with frank discussion and respectful debate is our goal and hopefully we achieve it in the audience's eyes more often than not. I love our group in the studio and love the Fam (our audience) outside of it. Just like any family, sometimes we argue over dinner, or in our case, since it's morning drive… over breakfast.
And often, they teach me as much or more than I could ever teach them. That's why radio is great. The interaction is EVERYTHING.
CODY STOOTS – ESPN 97.5 & 92.5 IN HOUSTON
The Texans are very bad and there are only so many ways to plainly say the Texans are bad. Game breakdowns are less and less useful as the losses pile up. It becomes a focus to critique players and coaches who will be on the team next year. We have to get creative in our approach to talking about the team. An example from last week is we took the temperature of the fanbase by asking for their "fandom injury report" during the show. There were plenty of funny responses and sometimes, with the Texans, you have to laugh to keep from crying.
They don't have a quarterback for next season and should be loaded with an expected Deshaun Watson trade this offseason. We find ourselves lusting after quarterback situations and also explaining how we would like the Texans to avoid replicating other teams' mistakes at quarterback. It's also worthwhile to examine how the Texans found themselves in this situation when something jars our memory and if they have cleaned up the process which led to their failures.
NICK WILSON – WFNZ IN CHARLOTTE
Sports talk adjustments halfway through the NFL season depend entirely on the market and the path of the organization. When Cleveland was winning 4 or less games every year, I knew I had to have my scouting reports for the next quarterback crop ready by early November.
In Carolina, draft talk doesn't sustain an audience the way it does in Cleveland when teams are bad. You're left with this moving target of national NFL stories, the start of the ACC basketball season and recently, LaMelo Ball and the Hornets to accentuate whatever day-to-day storylines are available.  
This year Carolina 3-0, proceed to lose 5 of their next 6 and then brought back the former face of the franchise, Cam Newton, to save the season. Today our topic was "which p-word are the Panthers closer to embracing: panic or playoffs." I'm awaiting our Marconi.
Now Is The Time To Build Your Bench
"There's a good chance you have a producer, production person, or even a salesperson who has a big enough personality that they can hold your attention."
As we crawl towards the Thanksgiving holiday week, many content managers are likely in the middle of figuring out what they're going to put on the air.
Since most marquee talent take the entire week off, this can present scheduling headaches.
Some stations (who can) will pick up more syndicated programming. Hey, why not? It's a cheap, easy solution that's justified by the fact that business is slow in Q4, and your GM doesn't want you spending any more money than what you have to.
Other stations will hand the microphones over to whoever happens to be available. This usually ends up being the same array of C and D listers who aren't that great, but they can cover when needed and usually tend to be affordable.
Both of these decisions, while usually made out of convenience, are terrible mistakes. Quite frankly, it's one of the many frustrations I have with spoken word media.
Content Directors should be using the holidays as an excellent opportunity for them to answer a particularly important question: DO I HAVE A BENCH???
One of the most common refrains I hear from other content managers is that they have no talent depth. Everyone constantly is searching for the "next great thing," yet I find that very few people in management that take the time or the effort to seriously explore that question.
My response to them is always, "Well, how do you know? Have you given anyone in your building a chance yet?"
Often, the answer is sitting in their own backyard, and they don't even know it.
Years ago, Gregg Giannotti was a producer at WFAN. Then Head of Programming Mark Chernoff gave him a chance to host a show because of how Giannotti sparred off-air with other hosts and producers in the building. Chernoff liked what he heard and gave his producer a shot. Now, he's hosting mornings on WFAN with Boomer Esiason in what is considered one of the best local sports-talk shows in the country. 
Carrington Harrison was an intern for us at 610 Sports Radio in Kansas City. He worked behind the scenes on Nick Wright's afternoon show and had a fairly quiet demeanor. It was rare that we ever spoke to each other. On one of his off-days, Nick was talking about Kansas State Football and Carrington called in to talk to him about it. I couldn't believe what I heard. Not only was his take on the Wildcats enlightening, but he was funny as hell. Soon after, we started working Carrington's voice into Nick's show more and eventually made C-Dot a full-time host. He's been doing afternoons on the station for several years now with different co-hosts and (in my opinion) is one of the best young voices in the format. 
There's a good chance you have a producer, production person, or even a salesperson who has a big enough personality that they can hold your attention. Why not give them the opportunity to see what they can do? Honestly, what's the risk of giving someone you think might have potential, a few at-bats to show you what they can do? If your instincts are proven wrong and they aren't as good as you thought they'd be, all you did is put a bad show on the air during a time when radio listening tends to be down, anyways.
If you go this route, make sure you set them up for success. Take the time to be involved in planning their shows. Don't leave them out on an island. Give them a producer/sidekick that can keep them from drowning. Be sure to listen and give constructive feedback. Make sure that these people know that you're not just doing them a favor. Show them that you are just as invested in this opportunity as they are.
I understand that most Content Directors are overseeing multiple brands (and in some cases, multiple brands in multiple markets). Honestly though, using the holidays to make a potential investment in your brand's future is worth the extra time and effort.
Treat holidays for what they are; a chance to explore your brand's future. Don't waste it.